So, not wanting to spend a lot of money on magnets (and because I like to make stuff with paaaappper!), and looking to do something unique, I made tags for my save the dates! I don't have too many people who need them, about 30 people or so will be getting them.
www.savethedatemagnet.com/proddetail.php – where I got my wording and that I based my very initial design on.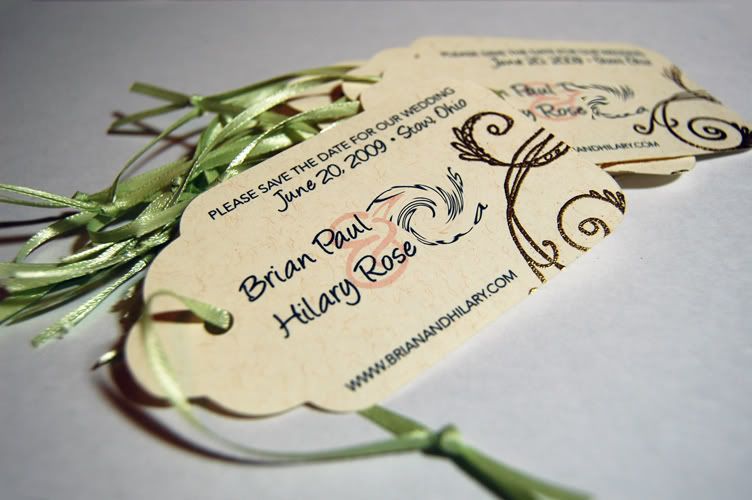 They were made with a Sizzix die cut tag that I have. I had to spend some time measuring so that I could print four on one 8.5″ X 11″ piece of paper and easily cut and run it through the die cut machine, but after I had the measurements right, it only took about 30 minutes to cut them all. Excuse the blurring of the last name… I posted the picture on a community board because I am that much of a nerd.
Along the right edge I stamped and embossed in gold. This is the first time I've ever embossed anything. I splurged a bit and bought a heat tool for this 🙂 But now that I've done it, I can see many more uses for it than just these! I will probably use it on my invites also.
You need pigment ink–this is because pigment ink stamp pads are slow drying. There are many methods to embossing, but for a quick and easy heat emboss, use your stamp with the pigment ink then cover the stamped image in an embossing powder. You can get a cheap little canister at Jo-Ann's for $3.99.
Dump off the excess embossing powder. Often you'll find bits of powder sticking to the paper. A nice water color paint brush (you know, the cheapo kind) will help you get rid of that. Then you use a heat tool and wait until it melts and gets shiny and run it all along the stamp so it all gets shiny and melted.
Once it starts, it goes pretty quick; don't hover over it too long once it's melted because you'll start to warp the paper! I got my heat tool at Jo-Ann's for $19.99.
One tip: I tried the glue pads instead of a pigment ink and found that I got a lot of excess embossing powder on the paper with it. Black pigment ink occasionally showed through my gold embossing powder. The best solution was to get a gold pigment ink pad and use the gold embossing powder. That way if the embossing powder didn't completely cover the image, you couldn't tell at all because the ink itself was gold too!
The tags will go in Christmas cards to people who are far away and need to travel. So if you don't get one, that doesn't really mean anything. Yet 😉
On an unrelated note, I got my book today!!! There are a few minor errors which I will fix for my parent's Christmas gift but man!!! IT IS AWESOME AND IT IS A SMELL GOOD BOOK!!