Less than a month to go, it's a little scary (not because I'm scared but because of all the STUFF there is left to go). Here's a short list:
Write thank yous for work bridal shower
Rehearsal dinner (this is almost done I think, Brian's taking care of it)
Thank you tags attached to favors
Pick up altered dress (should be soon, call to follow up next week)
Finish guest book table numbers Still need to write something to put up at the main entrance to explain this
Centerpieces! Clean mirrors for centerpieces
Finalize DJ stuff (we picked the song we're going to dance to, but nothing else)
Finalize cake details (I need a topper, I think I'll just use some teddy bears I got from work, and buy ribbon)
Finalize flower details
Finalize ceremony details
Finalize food
Finalize photographer details (must take photos, etc. and just touch base)
Create day-of timeline
Schedule make up and hair and other salon stuffs
Create ceremony programs
Finalize ceremony music (I need to call an old lady which is not on my list of fun things)
Seating arrangement (can't do this until everyone or most have RSVPed which should be very soon)
Create placecards for seating
Buy gifts for parents, both sets
Buy gift for Brian
Brian get gift for Hilary (let's just assume this will get done ;))
Finish bridesmaid/groomsmen gifts
Pay for all the shit (payment due dates are all coming up)
I put some stuff in that we finished because I wanted to feel good haha. I bought myself a pair of nice gold/pearl earrings for the wedding. My grandma is letting me borrow a real pearl necklace which will be my something borrowed. The earrings can be the something new–I didn't want to wear fake pearls with real ones. I found some really pretty at a good price. My engagement ring and band are white gold and the rest of the jewelry for the wedding is yellow gold, but I don't really think that matters.
Here's what the guest book table numbers look like, I realized I didn't have any pictures of them posted here. I'm pretty proud of them 🙂 I don't know yet how many more I need to do so I'm holding off a little bit. I have 15 done. They'll go on each of the tables with "prompts" and they replace a traditional guestbook.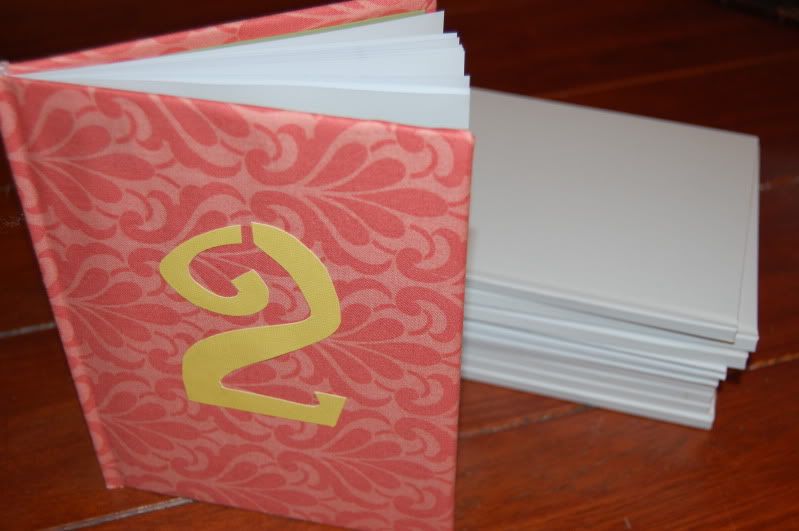 The registry is still pretty well stocked, but I'm going to watch it closely as the day approaches. I can't believe how much stuff I got for the shower, everyone was really generous! Brian's sister coordinated it all, I really thought it turned out really nice. We had it at Boston Township Hall in Peninsula. There was a little kitchen and bathroom attached and the day was beautiful so we had all the huge windows open. Table cloths and confetti. It was just great. Various people brought food–Lisa's husband JP made pasta salad she brought, Giant Eagle made the sandwiches, mom brought cake and little cream cheese roll things, people brought chips and pretzels, Brian's mom had jello and jello shots! and brownies were made… oh my goodness. We didn't really play any games except a bingo for what gifts I would get–it lasted a lot longer than I thought. It was supposed to start at 1, I think we got started at 1:30 and it went til 4:30-5. Hollie's kids (the ones we go to the zoo with each year) had a blast with the balloons and a lot more of my friends showed up than I thought would. My mom and sister and grandma came, and my Aunt Carol. Friends from school, old Centerville friends, new friends, and Brian's family. I helped clean up and then I got Brian and we drove to his parents house to hang with his grandma and Aunt Terry. It was so nice of them to come all that way, I know how tough it was to get his grandma here!!!
Then I had a surprise work shower, and that was a total surprise. I had absolutely no idea. They had it all decorated with table cloths and confetti and banner and balloons. (Banner is still hanging up outside my cube and one of the balloons is still inside my cube). April made a nice summer salad with lettuce, strawberries, walnut pieces and sweet dressing. We had pizza, brownies by Jill and cupcakes made by Leigh-Anne, of course. Joni and Leigh-Anne I think planned most of it, but everyone contributed; they got me a nice sewing machine!! So I took the one off my registry, this one is much nicer, I'm really excited. I bought a pattern for curtains yesterday since they were on sale for $1. I also bought some fabric to practice straight stitching on first. I took a class recently so I can do the basics, with a different machine, haha. I don't know when I'll be able to break mine out of the box since we're doing all kinds of housework and wedding stuff still, but after that I'm planning on doing this. Oh so crafty!!!
All in all, things have been really good. I feel a little overwhelmed with wedding stuff and house work right now, so I'm avoiding what I can. Don't worry, just like school it will all get done in time… 🙂